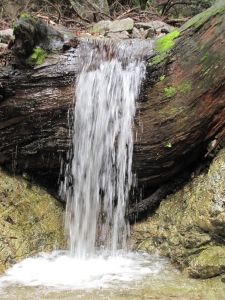 It always surprises me when I realize I've forgotten something rather basic and have to relearn it. Over and over and over again.
Feel your feelings.
All of them.
All of them, feel them, as much of the time as you can.
But, don't identify with them.
Don't loop around in thoughts that make them worse.
They are messages, they are flags.
Feel them in your body. Not in your head.
Feel them and let them go.
Listen to them, heed them, and let them go.
Listen to them, but remember you are not them.
You are vast; your emotional brain is limited.
Whatever the feeling, you can handle it; you are bigger than it.
It will not kill you.
Really.
It just feels that way. So feel that too.
Lately the feeling I've been processing is anxiety. I never thought of myself as an anxious person before, but now I realize that's because of all the unconscious patterns I had in place to avoid feeling it. Lovely.
I don't have much to say on this topic that hasn't already been written, except to just encourage you to do it.
This is what is on the other side of that feeling you don't want to feel: freedom. Ease. That soft relaxed feeling in your belly. (There is nothing better really than a relaxed belly.)
10 reasons to feel your feelings:
When you suppress a negative feeling, you are suppressing your ability to feel positive feelings like joy, aliveness, happiness.
Suppressing emotions is courting depression.
It's not fun, I won't say it is, but all the antics we do to not feel aren't fun either. Is your favorite habit or addiction really fun? At this point? Really?
There is a wonderful you on the other side of those feelings that you haven't met yet. The you that can handle whatever comes her way.
You stop projecting so much and  become a much nicer person to be around.
You get the energy back you were using to suppress your feelings.
You get the acceptance you always wanted from everyone else – from yourself – and realize you can give that to yourself any time you want to. You gain emotional independence. Which is fabulous.
You feel worse for awhile, but then you feel SO MUCH BETTER. After all that work to avoid it, it's such a relief to have it over with.
You grow and mature as a person as you integrate all the messages those feelings were trying to get to you.
You have more access to your intuition as the channel between you and your inner self clears up.