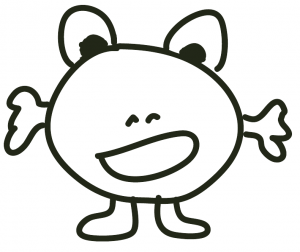 This is Herman.
I drew him at my last Mastermind group meeting where I was asking for help yet again with my Eternal Quandary which one of the gals put succinctly as: I want to be famous but I don't want to be famous. (And by famous, I mean internet famous — known amongst biz geeks for making cool things that help people).
I was lamenting finding myself in front of the same brick wall.
I wrote the problem down on my notepaper and randomly drew a circle around it.
Stupid problem.
I drew arrows and spears to represent all the angles of attack that had not worked to fix it. Therapy. Workshops. Morning pages. Etc.
Then, on a whim, I drew eyes on the top of the circle. And then arms and legs. And named the problem "Herman".
With this simple drawing, something shifted inside me. I felt warmth for the little creature I had just given a name and a face.
Through this drawing, I had started to form a relationship with my "brick wall". The problem was no longer a problem, it was a little being that wanted something.
The wall was its way of communicating. I was just unable to hear it.
As my perspective changed, I got curious about what this little guy wanted. What was his objection to fame? Why the big wall?
As the conversation continued, it turned out the "wall" was really a set of needs, wrapped up in a confusing jumble of beliefs about how those needs would not get met if I were famous.
For instance, if I were famous, I would have to be Eternally Productive, never play games, always be available, do interviews, enjoy schmoozing, etc. And I don't want that, no sirree.
It turns out the resistance wasn't about the idea of getting my work out to more people at all. It was about what happens next, and if I could maintain my boundaries.
It turns out that Herman is this amazing advocate for my self-care.
Herman wants to go to bed earlier. Herman wants time for me to think and process my feelings. Herman wants the freedom to attend to what I really need. Herman wants to stop working before I'm burned out and exhausted.
Herman may feel a little conservative and cautious. But he's totally on my side.
Our demons are parts of ourselves we have miscast in the inner drama of our mind.
Herman was never a demon. But because I had never formed a relationship with him, I did not know his true face.
In fact, as I worked more with Herman, I found another demon — the part of myself who has a bundle of needs around contribution and purpose and thinks that if I don't work constantly I won't be proving that I'm enough.  Another set of real needs mixed up in a tangle of unhelpful beliefs.
These two play tug-of-war in my subconscious, pushing and pulling on me. One yanks hard and I stay up all night working on a project. The other gives a good pull and I spend hours vegetating in front of the TV. Neither are happy and both are afraid of losing their grip on the only way they know of to meet their needs: by pulling me into their habitual strategies.
The wall turned out to be just a weapon in a larger inner battle that I'm working to resolve. (Other symptoms of an inner battle include: endless discontentment, fantasizing instead of doing, and never moving in any one direction for very long.)
Once I get these two parts of myself talking, I can get somewhere with what my whole system needs to move forward.
Maturing psychologically means learning to play the referee with our subconscious parts.
The drawing was an avenue to start humanizing this tangled knot of needs and beliefs, and get curious about them. This is the first step.
To do this work, you need some consistent way to get underneath the symptoms that appear to your conscious awareness. Writing, drawing, and talking with supportive people who ask good questions are what work for me. Experiment to collect your own toolset.
Keep a completely open and curious attitude about what you will find. It's a wacky world inside our minds. Demons? Walls? Those are my metaphors; you'll find your own. Whatever you discover, don't judge it, or it won't reveal its secrets to you.
Have patience and self-forgiveness too. There is no magic wand that will make issues instantly explicable. The mind is a labyrinth full of characters with different motivations and horribly inexplicable ways of communicating. It's up to you to make a map and translate the hieroglyphics on the wall.
I've been watching Stargate SG-1. Every episode they jump into a swirling pool of light to find out what new world is on the other side. Inner work is kind of like that. It takes cojones.
The last element is to continually experiment with new, healthy, adult ways to meet your needs consciously and consistently. By "healthy", I mean that you don't meet one need at the expense of another. For example, eating two chocolate bars for dinner meets my need for comfort, but at the cost of my need for nourishment. Eating one square of chocolate, making myself a decent meal, and curling up with my cat meets many needs without cost.
Generally our demon strategies are costly and habitual. It's up to us to investigate what they need, help them feel heard enough so they stop taking over, and develop the discipline of consistently choosing healthy strategies.
This takes a lot of practice. Again with the patience. Be good to yourself.
Worksheet!
I wrote up the drawing exercise and some of the questions I asked myself. Enjoy (and let me know in the comments how it works for you).