A marketing system or formula is a way of reaching your target market that consistently works and you can rely on to create a steady stream of new clients.
Every successful business has at least one or two of these reliable methods of getting new clients that they consistently use. Otherwise you're reinventing the wheel every month. It's much better to go about it methodically, find something that works, and stick with it, refining as necessary.
Your best marketing system is unique to you and your business.
The problem with a lot of marketing books and workshops is that they are just one person's formula. It's understandable–that person made it work really well for themselves, now they think it will work for everyone. But it won't necessarily (but it might). Why?
The system that works for you has to be both something that will actually work for your niche or market, and something that will actually work for you. Here is a Venn diagram showing the relationship: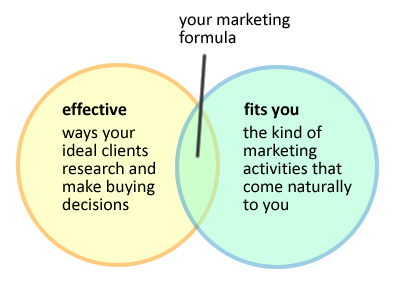 When you hear about any new method of reaching people or staying engaged with them (like newsletters, ads, Facebook, SEO, Twitter), it helps to ask yourself these questions:
Would this reach my ideal clients where they are? Do they look for services that I offer in this way? (for example, do they use Twitter?)
Is this something I would enjoy engaging in on a regular basis? (For example, do I enjoy Twittering? Can I see myself doing it consistently?)
Know yourself.
Don't create a marketing formula that is not really you. You won't keep up with it, or if you do, you'll become slowly unhappy and resentful.
I was in a marketing class once with a guy whose regimen is to spend an hour every day calling and keeping up with new and old contacts. It works great for him. It would never work for me. And that's OK.
Do not beat yourself up or compare yourself to anyone else. It doesn't matter what works for someone else. It only matters what works for you. Because in reality everyone is different, and there is no better or worse way of doing marketing. There is only what works for you and your business.
You don't have to market to the whole world. You just need a sliver to have a good business.
Part of the fear that leads people to scattershot marketing (trying a new thing every week) is that there are so many people that could benefit from their services and they want to reach them all.
Don't go for everybody.
I know it's tempting to say "But everyone could benefit!" but here is the reality: if you try to do that, your business will struggle and you won't serve very many people at all. Your perfect customers are people you can reasonably reach given who you are. Even if a lot more people could benefit or could potentially be your customers.
Here is an example from my web hosting business.
First, my Venn diagram: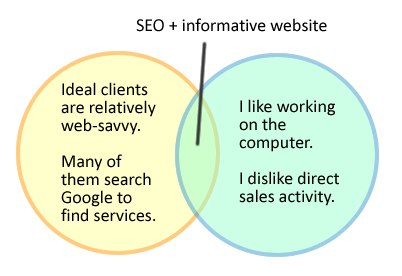 I like marketing that I can set and forget–that doesn't involve a lot of ongoing maintenance. I am easily distracted with new projects and don't like having to keep up with things. So that goes on the right of the diagram. On the left there are potential clients that could find me on Google. And the natural overlap is to do search engine optimization and  make a site that is informative and lets people sign up online.
Now as you can imagine, there are a ton of people I'm not reaching. But that's OK with me. I don't want to have a giant company, and I'm guessing you might not either. My lifestyle goals are the most important to me, and having a smaller company works better for me (and, not coincidentally, for my customers).
So here's what this looks like: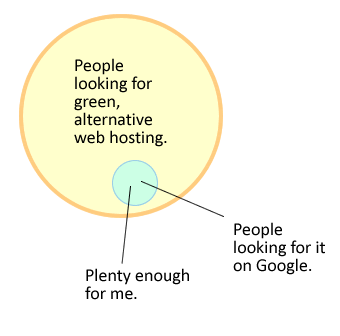 I have also created listings in various places like Green America to reach some of these other folks. But by far the biggest source of new customers (besides referrals) are from Google. It's a formula that works.
Another example is a side project of mine which is a website about beading. Because it is a hobby site I don't have a lot of time and energy to put into marketing. So the only way I market it is through SEO. I did create a Facebook and Twitter account, but only when I had automated feed content to put into it–I don't use it to chat with folks. SEO works because lots of people search for beading patterns and such. Does it reach everyone who might be interested? No…but it reaches enough to give me a healthy AdSense check each month. It works for me and my business.
Here's how to get started:
First, list all the potential ways you might reach people:
Google/SEO
Facebook
Twitter
newspaper ads
fliers
door hangers or coupons
networking
referral relationships with related businesses
niche magazines
blogging
press releases
Research and ask your colleagues for more ideas.
Then start noticing which you are more drawn to. Do you like forging relationships and keeping up with people? Joining networking groups and going consistently might be a good fit. Facebook might be a good fit too. Do you like the phone? Or are you more of an introvert? If you don't like going out and networking, but you are fine with learning technical stuff, try SEO.
Ask yourself this key question:
Which of these am I drawn to learning more about, working with, and really mastering?
Every single marketing method is going to require time, patience, and a willingness to learn and experiment. So pick one you want to spend that time learning about and devoting time to. Find the one that seems like a natural fit for you. Which might even be partnering with a person or service who does the marketing while you run the rest of the business.
Next, find out if there are enough people who use these methods to find the kind of thing you do to give you the number of clients you want.
Finding this out can either mean experimenting – running an ad for awhile – or doing research. For instance, you could use an SEO tool to figure out if anyone searches for the keywords you want to use (or use it to find the keywords people do use), or you can ask colleagues in similar-but-not-competing businesses what their experience has been.
Find your thing and stick with it.
Scattershot marketing doesn't work. You will create much better results when you find and consistently apply a formula that works. Even when you are looking for your formula, you need to stick with each thing you try for awhile before trying something new. So start with your favorite and devote consistent time and attention to it for at least six months to see how it works for you.
In the first few years of your business, you might have to spend considerable time figuring out just what fits you and works for you on a consistent basis. Think of it as an investment. Once you have it in place, you can rely on it as a steady foundation as you work on the other areas of your business.
Write down your plan.
My final piece of advice is to create a written marketing plan. It's one thing to know what you like to do and what works–but the results come when you keep up with it and build on your results. Running a business demands so much each day and it's easy to lose track of things that have to be done a little bit over time regularly, like many marketing strategies.
Another reason to write it down is to have it in mind when you are writing web copy, articles, and posting on forums or Facebook–or when you are considering the lastest social media invite in your inbox. Do you really need to join? Your plan will remind you of what methods you are strongest in.
To make a plan, just write down what your core strengths are, what your marketing formula is, who you are trying to reach, and what you are going to do each day, week, and month to build on your results. Then put those activities in your calendar. Also mark a time to revisit your plan every so often to update it.
Your plan doesn't have to be elaborate and have charts and graphs – it just has to remind you of what you are going for. Mine are always just one page. As always, there isn't one right way to do it–the right plan is the one that works for you and keeps you motivated and on track with what you are doing.