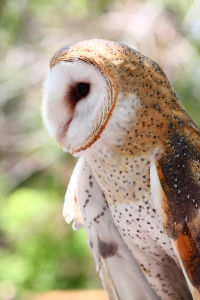 Sometimes I have a voice in my head that goes, "What is the point? Why bother?" when it comes to self-promotion, and sometimes it even grows to engulf doing anything creative.
I met with my MasterMind group yesterday and we worked on this voice in regards to self-promotion. It says: "What's the point? Nobody cares what I do anyway. There's all kinds of other stuff out there and a lot of it is better than mine. Blah."
I could identify that there is some kind of fear there—fear of disappointing people, fear of being judged or disliked. But I wasn't getting very far focusing on the fear.
The Suggestion: Work with the voice. Ask, What IS the point?
When I tried that, I got something completely different:
The point of me talking about What I Do (or Doing it in the first place) is to remind people that they are not alone. That there are many people out there working on their "stuff" and trying to live a more conscious life, and trying to build a successful business too. That there is help and support available if we let ourselves ask for it (and give it to ourselves). Especially I want to reach people who might feel like they are weird or don't belong or are too ______. I want people to feel OK about wherever they are in their life and empowered to make choices that work for them. It's OK. We're all just muddling along figuring things out. I'm not a guru and I don't want to be. I'm just another person saying "Hey, this is do-able. You're OK. Let's play with it. Try this."
Instant alignment!
Writing this changed my whole perspective on self-promotion. Suddenly it's not about ME and whether people like ME and follow ME and think I'M the best thing since sliced bread and ohmygosh what if one day they DON'T like me—ugh.
Instead, it's about what I want to give people: a sense of confidence in themselves and their own abilities and choices. Tools and resources that might help. Permission to experiment and find their own way. A reminder that underneath the fear and confusion is a pure, clean stream of wisdom and clarity that we can access and is always there waiting for us when we are ready to turn inwards and find it.
Re-orienting to what I want to give feels so much better. More grounded, more clear, and more free to create and give and share.
Lesson #1: Critical voices are wise owls disguised as rats.
That voice asking, "What's the point?" was really trying to get me to see that I was missing the point.
By thinking of self-promotion as …well, as self-promotion, I was missing that it's about something much deeper. The heart wants to give. Self-promotion is about tapping into that desire to give and sharing from that place. It's not about getting people to like me—it's about getting people to like themselves. That's what I want to give.
Thank you voice…(and thank you friends for reminding me to hang out with it).
Lesson #2: Promotion, and marketing, is best done from a connected place.
When I start feeling like I'm just tweeting to get retweets, or blogging for comments, or that I'm creating in a void and shouting into the wind—I need to reconnect with what I want to give. Not what I want to get from my promotion efforts, but what I want to see others get. Then I'm out of my head and back into the stream of living, of giving, of loving.
Comment Magic:
This is a new section I'm adding, inspired by my brilliant friend Larisa.
I want to encourage more comments. It gets lonely in cyberspace, and I'd love to hear from you.
Do you have a "what's the point" voice? Or maybe it says, "I don't care anyway", or "It doesn't matter", or "Why bother". Maybe it's just a sense of apathy or anxiety that creeps up.
What helps you remember that there is a point, that you do care, and that it does matter…what helps you reconnect?
In all the buzz and hoopla and the jungle of strategies for marketing and promotion, how do you stay connected to your desire to give?