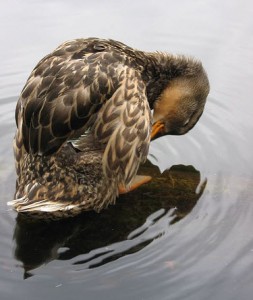 This is a comment on Charlie's post Do Epic Shit.
(Note: I'm not disagreeing with the post, I'm just adding another voice. Different people need different messages.)
I write periodically about the machine we call the education system and how it breaks many of us in one way or another such that we need to work hard to repair (i.e. deprogram) ourselves. I think for some, the message was that they were not good enough, not able enough, not special enough. Grading people will do that.
But getting good grades isn't a blessing either: the message I got was that I was supposed to be great. I had all this "potential" that I was in constant threat of not living up to.
It's taken a long time for me to embrace the smallness of having one body, one life, and for that to be OK. I don't have to be great. I don't have to be epic. I don't have to change the world in every breath.
I think of all the people throughout history, all the cavepeople, peasants, serfs…nameless people who just lived their lives, cared for the people and animals around them, and died without having accomplished anything great at all – except completing one lifetime on Earth, which is a pretty big accomplishment in itself.
You are actually very small in comparison to Everything That Is.
I believe our human psyche is healthiest when it has a sense of being part of something larger than itself. Believing the fate of the world is resting on your mortal shoulders is too much to bear. It denies your humanity, your lineage, and the strength of everyone around you. We are all in this together.
We only need do what is natural to us to do. If we happen to be in the right place and time to do something epic, it will likely happen whether we want it to or not. Otherwise, do what your heart says. If you do that consistently over time, you will have done something meaningful, whether it measures in epic-size proportions or not.
Some people are born with a natural drive to achievement. That's perfectly OK. I just don't want to measure myself by a standard that isn't me. A duck cannot become a peacock. And if the world was only populated by peacocks, it would be pretty overwhelming.
America in particular emphasizes and rewards achievement; but it's not the only path in life worth talking about. Sometimes the spiritual path is an inward one – sometimes it doesn't look epic at all. I suppose "epic" is in the eye of the beholder, but I think words have power, and I want to say this: it's OK to be small. It's OK to be just you. It's OK however that looks. What matters is that you follow what is in your heart, whether that is to be bigger or smaller than you think you ought to be, or just exactly what you already are.
There is no destiny written in the stars that isn't also written in your heart.
You are the only one who knows what you need to do to be happy – and it could be that you don't need to do anything much. Happiness could be more a matter of being than doing – of seeing the world a certain way, of letting the world wash over you, of watching, of letting God/Tao/whatever move through you in large and small ways. It doesn't have to be epic. Most people just live, and that's OK too.
Similar articles on other sites: